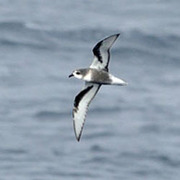 Hover over to view. Click to enlarge.
Mottled Petrel
Pterodroma inexpectata
Procellariiformes
The tube-nosed seabirds, as this group is sometimes called, spend much of their life on the high seas out of sight of land, gleaning food from the water's surface. For most, the nesting season is the only time of the year that they touch land. They are drably colored—usually gray, black, or brown, with white—and range in size from small to very large. External nostrils on the upper mandible endow these birds with an unusually well developed sense of smell and contain a gland used for excreting salt. The order has four families worldwide, of which three are represented in Washington:
Procellariidae
This group is diverse and ranges widely in size. A common trait that all members of this family share is that their nostrils are located in a single tube at the top of their bills. Most maneuver well in high winds, and many migrate long distances. Most, but not all, nest in burrows. Those that do nest in burrows visit them only at night. The well-developed sense of smell of the shearwaters may help them find their burrows in the dark.
General Description
Probably regular far offshore in winter, though seldom seen by birders. Four on Westport (Grays Harbor County) pelagic trip in February 1997; numerous individuals brought within sight of Ocean Shores (Grays Harbor County) jetty during storm in late November 2000. Several records of birds found dead on Pacific beaches, February to July.